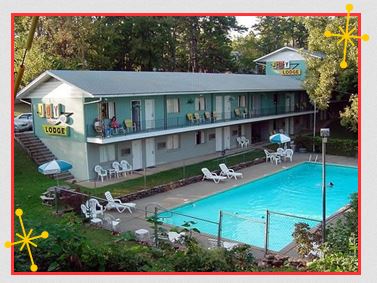 Located in historic Eureka Springs, Arkansas, the Joy Motel is the area's only mid-century modern motel! Not your typical vintage gem, the Joy Motel is waiting to transport you back into the 1950s and 60s. Recently renovated, the Joy Motel is a mix of retro design and modern amenities. Nestled under a canopy of native pines, the newly refinished saltwater pool is a chemical-free spot to relax after a busy day. Book now and stay in a motel like no other in Eureka Springs!
Mid-Century "Retro"
"Retro" appointed Queen & King Suites + Original Cabins
Eco-Friendly All Natural Fiber Linen
Lava Lamp in Every Room!
Nestled into Nature
Picnic Area
Fire Pit
Balconies with Wooded Views
Walking Trail all under Canopy of Native Pines.
Ideally Located
On upper 62 West, Historic Loop at
Trolley Stop #1.
Leisurely walk downhill to village shops, restaurants & galleries
Hikers will delight in exploring nearby Historic Black Bass Lake
Eureka's only original & authentic "Mid-Century Retro" Boutique Motel with Attitude!